Before adding employees, consider the duties of your officers and managers. TrackTik's Permissions allow you to create custom access levels for users. You can modify permissions at any time.
Select Roles & Security and then the "Roles/Permissions" tab to create, modify, or remove roles from the Settings tile.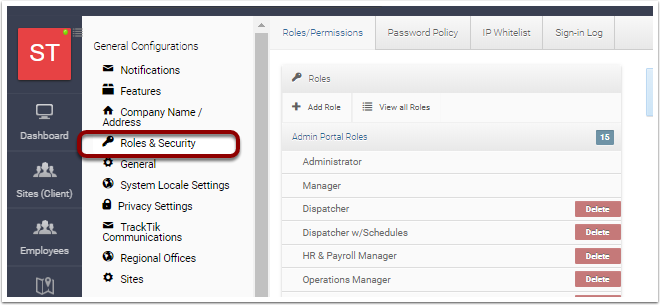 See the table below to learn about the types of roles available.
Role
Description
Admin Portal Roles


Admin Users have access to all sites and employees by default. 

You can adjust which features Admin users have access to, but it is not possible to segment certain groups such as departments of employees or groups of clients.

Admins can access either all sites and all employees or no have no access.

Two default roles are available in the admin section (Administrator and Manager)



Staff Portal Roles

The staff portal is often used for officers, site supervisors, and account managers. These permissions determine the features guards and supervisors will access when using an Onsite License.

These users only have access to the sites assigned to them according to the zone or site where their phone is registered.

One default role is available in the staff section (Guard) 

Client Portal Roles

Clients will only have access to their site

Giving a client access to multiple sites is possible by attaching sub-sites to their account.

One default role is available in the client section (Client role)