Positions are used across the platform for many key features such as Scheduling, Billing, and Mobile Patrol. You must have at least one position at a site, zone, or department to schedule employees.
You can create positions at sites, zones, or departments.
From a Site:
Sites (Client) > Select Site > Overview > Positions > Create a Position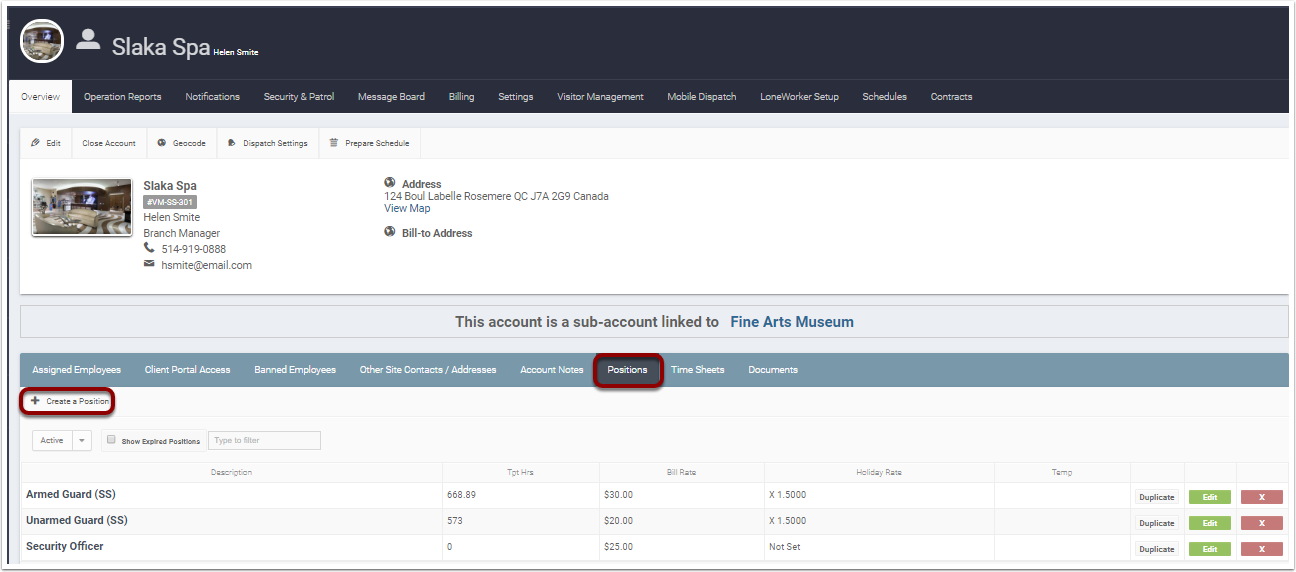 From a Zone:
Sites (Client) > Site Zones (Groups) > Select Zone > Positions > Create a Position

This will then open the Create a position window that you can fill in.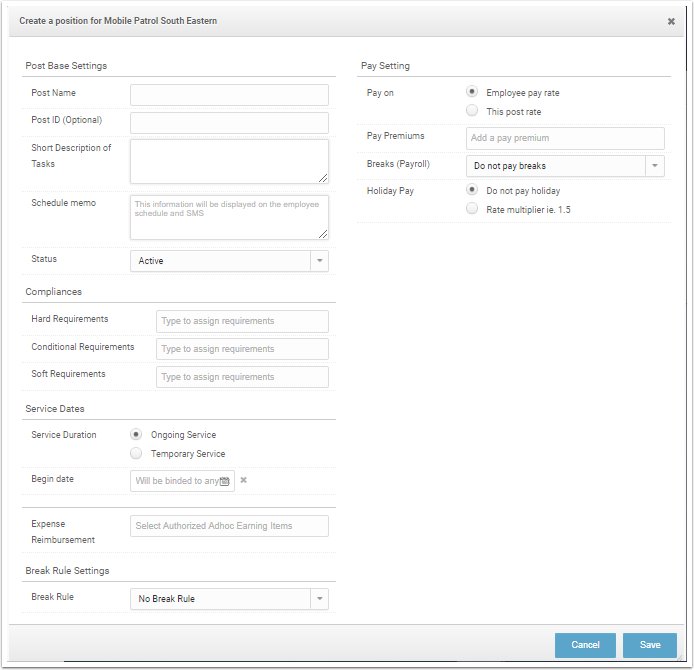 Post Base Settings
The Post Base Settings are essentials to identify and define the Position and communicate important information to the employees when sending them their schedule.
Post Name and Post ID: They will help you search for specific positions in the future, so use a name or an ID that makes sense and that you will remember.
Short Description of Tasks: This is for internal use only and should describe the activities that officers will have to provide.
Schedule Memo: Gather the information you wish to provide the employee scheduled for this position. For an example, you could remind employees to dress according to the weather for an outdoor post. This information will be available on the email distribution of the schedule.
Status: Can be either "Active" or "Archived." If the position is still in use and you want to use it as part of your scheduling process, make sure it is active; otherwise, you can archive it so it doesn't appear anymore.
Compliances
Requirements are also commonly referred to as Skills & Attributes. This section links the right skills and attributes to each position. This step is key as it will allow only the right person with the right skill set to work in each position.
Hard Requirements: They are requirements that the employee MUST have to be assigned the position. Meaning someone without them won't appear in your search if you try to assign the position.
Conditional Requirements: The employee must have at least one of them to work in the position.
Soft Requirements: They are the preferred requirements; consider them as nice to have.
Service Dates
Service dates will allow for better planning to start scheduling and stop scheduling for a position at the right date.
Service Duration: Choose whether you want the position to be an Ongoing Service or a Temporary Service.
Begin Date: This is simply the date from which the position will be available to be scheduled.
Expense Reimbursement: Add Ad Hoc Earning items that will be reimbursed after approval.