Use the Technique drop-down menu to select the distribution method for the SMS offer.
Send All at Once: This method will send the SMS to all selected officers simultaneously. The first officer to respond will be assigned to the shift.
Send in Sequence: Send the SMS to officers in the order you selected them from the employee list. This option allows you to choose the delay between each SMS that does not get a response.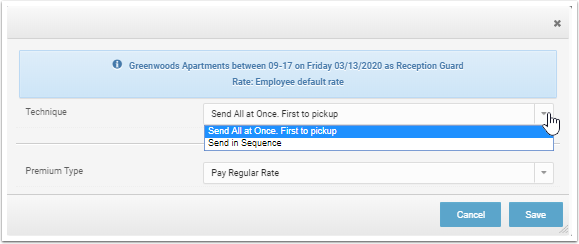 There are some payment options available to help incentivize officers to work the shift. Select the payment option before sending the vacant shift offer via SMS. Use the Premium Type drop-down to select which payment option will be used for this shift.
Pay Regular Rate: No adjustments to the pay rate configured for the shift.
Same Premium: Select the dollar amount as a fixed rate for anyone who picks up the shift regardless of their pay rate or assigned to the shift.
Dollar Amount on Top: This option will add a selected dollar amount as a premium on top of the default rate for the shift.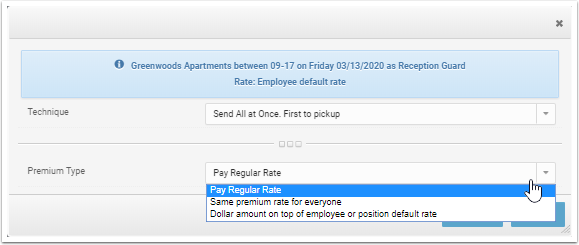 Click on the Save button to send the SMS offer.