Canada, USA, and Mexico
To activate the Call-In Attendance option, follow the steps listed below:
Go to Settings > Call-In Attendance Setup > Get another Interactive Phone Number.
Enter the area code of the number and choose a number from the list.
Select the appropriate language from the list. Options are English, French or Spanish.
Important: This will define the language when guards clock in and out. You may choose one language per phone number. For multiple languages, you will need to set up multiple phone numbers.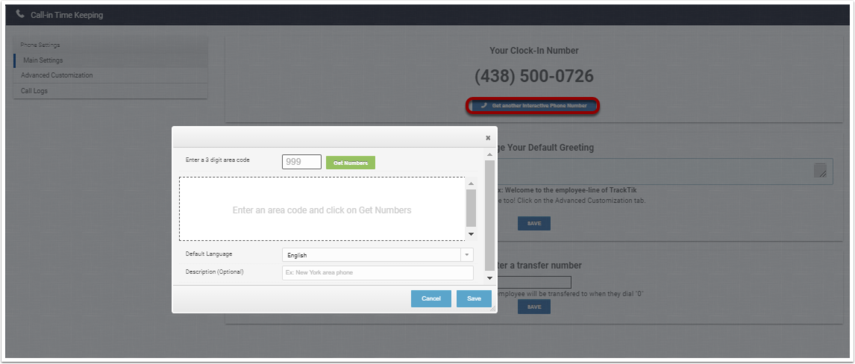 Outside N. America
For countries other than Canada, the USA, and Mexico, please contact your TrackTik representative.
We provide numbers for most countries. However, we must contact our provider to ensure the perfect configuration.
Please provide your representative with the following information:
The country and area or city where you will want to use the IVR system.
The language(s) for the IVR system​ per location.
​We will then apply the information to your portal once you have selected the phone number.
Note: For IVR numbers outside of North America, please make sure you format them without a '+' and any spaces.