From the Mobile Dispatch tab, select the Reassign Requests option from the Patrol menu.
Confirm the dates shown in the date filter are correct. Adjust if required.
If you wish to reassign the Runsheet job to a specific user, begin typing their name and then select them in the filter by User box supplied.
Note: Entering a name will filter on the selected user even if they are not presently clocked in.
Select the Position (optional) that is job is to be reassigned to from the 'View All Zone Positions' drop down list.
All configured runsheets will be listed.
Select the Runsheet that the job is to be reassigned to. If you wish to reassign to a currently active Runsheet, click the Open Runsheets button. the 'Zone Runsheet only' filters available Runsheets at the site's zone level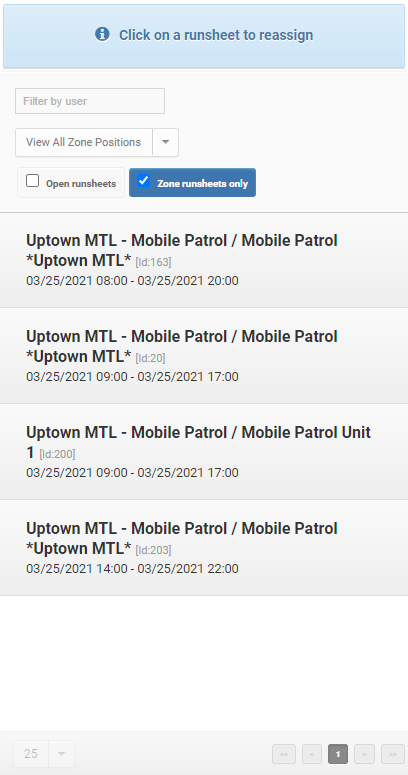 Note: If no runsheets are listed, only the original runsheet is active.
A window appears asking to confirm Reassign this item to this Runsheet.
Click on Save to complete the assignment.
Note: If an administrator rejects a reassignment request, the job will be reassigned to the original runsheet. The mobile user requesting reassignment will receive a notification explaining that their request was denied.