Once zones have been created, if appropriate, assign the appropriate zones as a sub-zone to the main zone.
Sub-zones are useful if you have various managers and supervisors for different sections of a given zone.
If a license is assigned to a zone, and that zone has sub-zones, you can use the device at any of the sites contained in the subzones. However, if you need to scan checkpoints or perform tours at a sub-zone, you will need to log into that sub-zone directly.
Select the zone that the sub-zone is to be assigned to.
In the zone, select the sub-zones tab.

Click on the Assign a Sub-Zone button.

Begin typing the name of the zone to be assigned as the sub-zone and select it from the list that appears.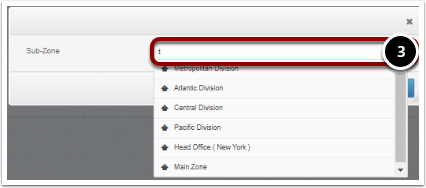 Click Save to create the association.

Confirm that the sub-zone is now listed in the Sub-Zone tab.