Once you have selected the shift, the information for that shift appears on the assignment panel's left-hand side.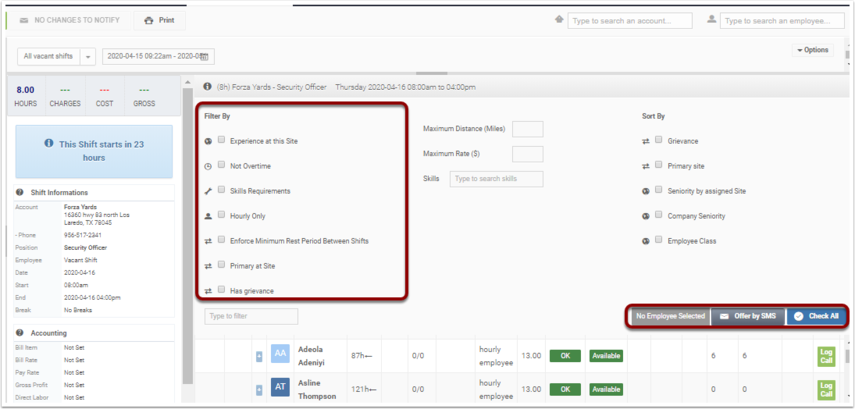 The assignment panel can filter the officers based on different criteria such as experience at the site, not overtime, skills requirements, hourly only, etc. The list of available officers will appear below. You can select one or several guards at a time or use the option to select all officers.
Once you have selected the options you want, click on Offer by SMS.
Filter By:
Experience at The Site: The guard has worked at the site before.
Not Overtime: Display only guards who would not incur overtime if they worked the shift.
Skills Requirements: Enforce skills requirements for the position/shift.
Hourly Only: Select only hourly employees.
Enforce Minimum Rest Period Between Shifts: Enforce the rest period defined in the settings.
Primary at Site: Select only guards for whom the site is primary.
Has Grievance: Select only guards who have filed grievances.
Maximum Distance: Define the maximum distance the guard can live from the site.
Maximum Rate: Select only guards whose hourly wage equals or is less than the amount entered.
Sort By:
Grievance: Sort by guards who have filed grievances.
Primary Site: Sort by guards for whom the selected site is primary.
Seniority by Assigned Site: Sort guards by seniority at the site.
Company Seniority: Sort guards by seniority at the company and regardless of site.
Employee Class: Sort guards by employee class.