Bill items are essential to Invoicing. You must create them before creating your first contract. Each Service model in your contract will have to be linked to at least one Bill item. Bill items will also display on each invoice when the specific service has been provided. You will be able to look at billing analytics per Bill Items.
In order to set up your Bill items, follow the path below:
Settings > Bill Items > New Bill Item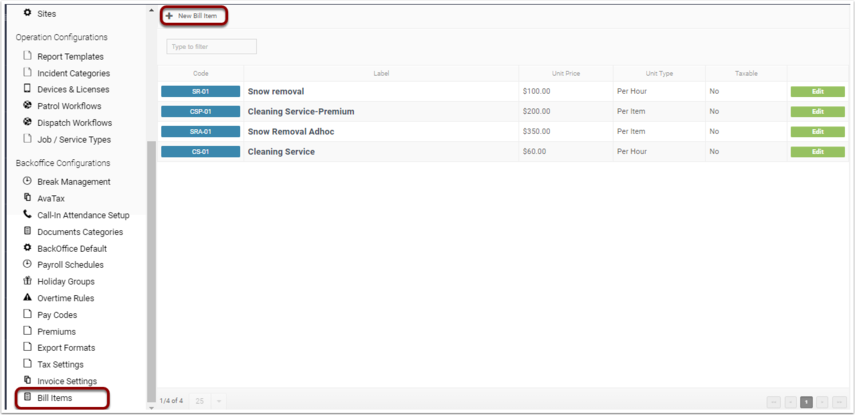 You will be able to decide how you need your Bill items to be created as they can be very specific to the type of service offered or more generic.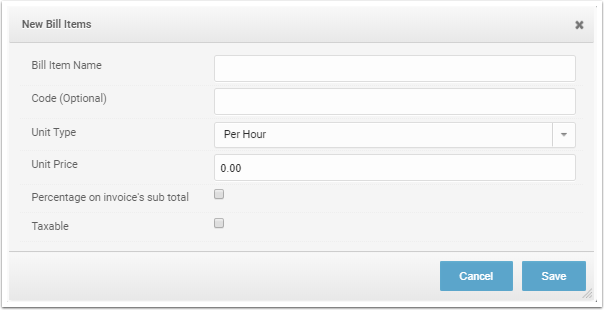 Bill Item Name: This is the name that will be used throughout the system, make sure you choose something that makes sense for all users.
Code (Optional): While this field is optional, you may use it if you need another way to identify your Bill Item.
Unit Type: Depending on the Bill item you are creating, you will have to choose the per hour or the per-item option.
Unit Price: Fill in this field based on the Unit Type you have already selected.
Taxable: Please indicate if it is a taxable item or not.
Note: Once a Bill item has been created, you will still be able to edit it.