How to create a Runsheet
Select the Mobile Dispatch tab from the Live Dashboard.
Under the Settings heading, select the Zone Settings option.
From the Select, a Zone drop-down list, select the Zone in which the runsheet will be created.
Click on the button labeled Create Runsheets.
A window will open, prompting you to enter specific data regarding the Runsheet.
Enter details to be applied to the Runsheet:
Position / Unit: Select the from the drop-down list.
Start Time: Enter the runsheet start time.
End Time: Enter the runsheet end time.
Custom Description: Enter the name or description of the runsheet.
Select the days for which you need this Runsheet.
Click Save.
Once your runsheet is created, you will be able to assign jobs to it. This graphic shows the relation between jobs and runsheets.
Runsheet start date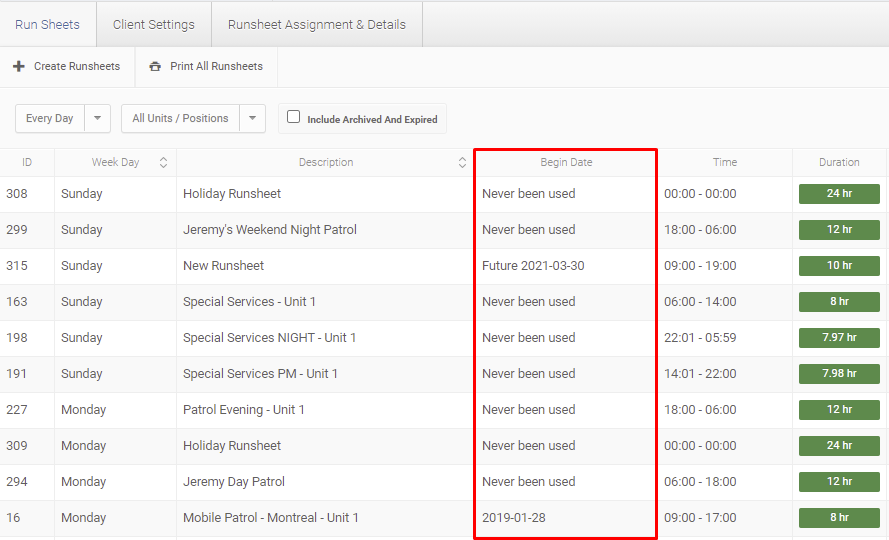 Runsheet Begin Date
for runsheets without a beginning date set

if you never used it — we will display Never been used
if you used it — we would display the date of the first action that was ever taken by an employee on this Runsheet "template."

For runsheets that have to begin date

in the future — we will display: Future [Date selected in the form]
in the past — we will always display the date entered by the Admin as the "Begin Date" in the runsheet creation form
The 'Never been used' and 'Future' labels are also available the Runsheet Assignment & Details tab under the Runsheet selector