This document provides step-by-step instructions on how to prepare invoices.
Under the Billing tab, click on the Prepare Invoice menu option.
Ensure all the prerequisites have been done.
Click on the Preview button to resolve any billing errors.
To avoid any billing errors, you should ensure that all contracts are set up with service models, that all shifts are approved for hourly services, and that all contracts have billable services for this billing cycle.
Click on the Billing tab.
Click on Prepare Invoice.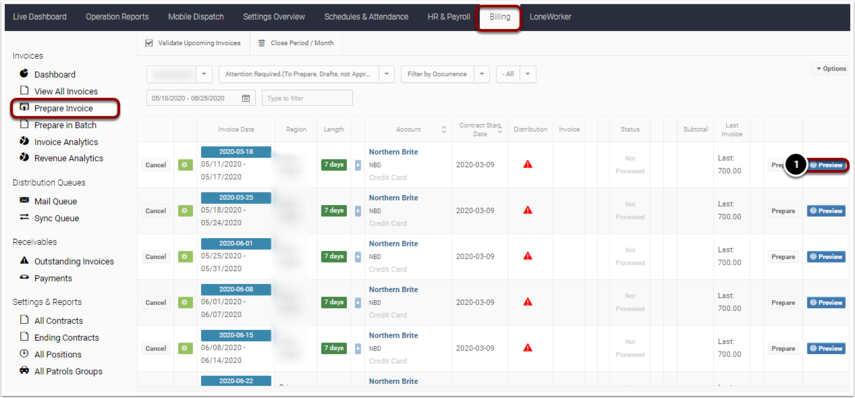 You can filter the occurrences. If you filter by dates, always ensure you include the date the invoice is created. (Usually, a day after the period ends)
Ensure there is a distribution method for each invoice. Invoices for sites with no distribution method will show an error in the Distribution column.
You can resolve this error by going to the site and configuring a distribution method in the site billing options.

Depending on the status of the invoice, a pop-up window will open with a pre-selected choice.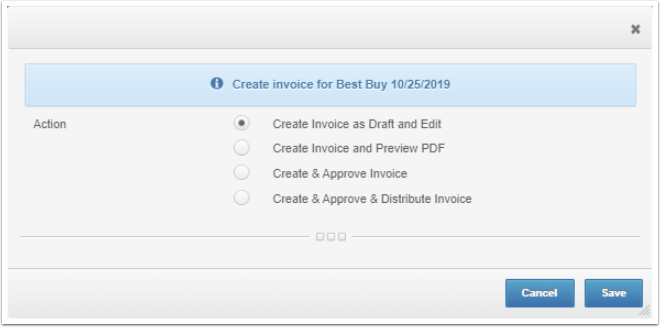 Create Invoice as Draft & Edit:  -  Make changes to the line items in the invoice, either add or remove
Create Invoice & Preview PDF: Generate the PDF for the invoice *Preferred option if you do not think the invoice needs manual adjustment.
Create & Approve Invoice: Once the invoice is approved, You cannot edit it * You should use this for recurrent items, fixed cost invoices, or already reviewed invoices.
Create & Approve & Distribute: Create and Approve the invoice and send a copy to the client and you if selected.
You can also go to View All Invoices to approve and distribute invoices.
Follow this path: Dashboard > Billing > View All Invoices.
Suppose there are any billing errors. Select Preview on the Invoice line and then the validation error to fix the issue. Once errors are fixed, you can create the invoice type of your choice again.

Once you have reviewed your invoice, edit it if needed, you can now approve and distribute your invoice.