This screen displays all positions at sites and zones throughout the portal.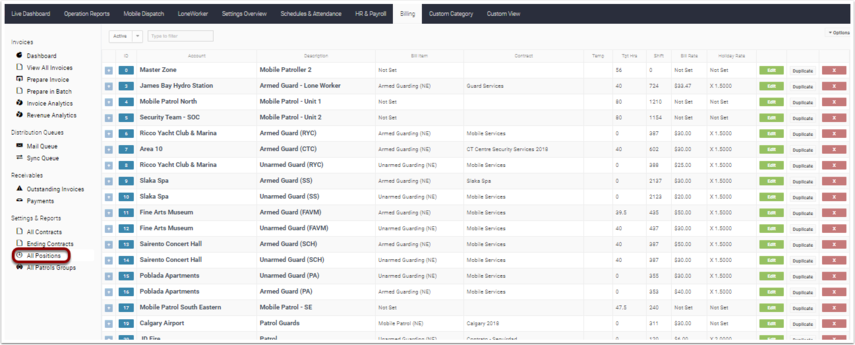 Plus Button: Drill down into information about the position.
ID: The unique ID of the position.
Account: The account with which the position is associated.
Description: The name of the position.
Bill Item: The bill item associated with the position. If there is none, 'Not Set' will appear in this column.
Contract: The name of the contract set for the position, if any.
Temp: Will show the end date of the position, if any. If there is no end date, it will be blank.
Tpt Hours: The weekly hours scheduled for this position are on the schedule template.
Shift: Total number of shifts for the position.
Bill Rate: The rate you bill your client per hour worked at this position.
Holiday Rate: This column shows how holidays are billed for this position.
Edit: Click this button to edit the position. Clicking this button will open the same screen you use to create a position.
Duplicate: Click this button to duplicate the position at the same site or zone.
Red X: Click this button to terminate the position.
For bill rate changes at the position, it is best practice to process the final invoice with the old rate and then update the rate on the position. You can also edit any invoices already processed to reflect the correct rates.