You can ban a user from working at a site. Doing so will prevent the user from working at the site and will remove the user from any schedules or unassigned shifts in the scheduling module.
Click the "Ban A User from Accessing This Site button."

Enter the information to ban the user.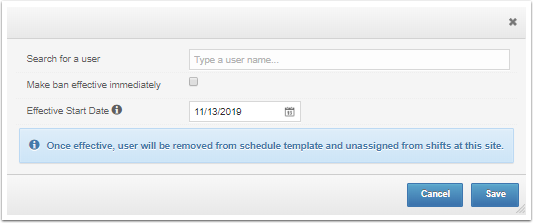 Search for a User: Begin typing the user's name to select the employee.
Make the ban effective immediately: Ban the user starting now or leave it unchecked.
Effective start date: Select a start date for the ban if not effective immediately.
Click the Save button to ban the employee.
A list of banned employees will appear under the Banned Employees tab.