The Attendance and Resolution section provides a view of real-time time attendance. Additionally, this section provides options for different expectations typically managed by schedulers. You can use this section to monitor attendance and forecast issues in the schedule. Each option in this section serves a specific purpose for managing shifts.
To access this section, please follow the bath below:
Dashboard > Schedules & Attendance > Attendance & Resolution Section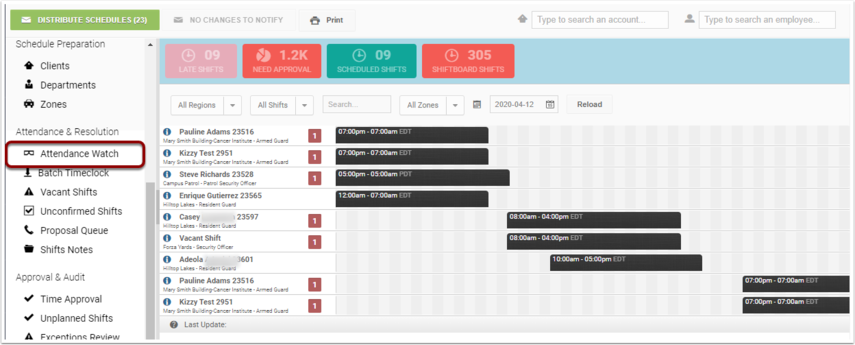 Attendance Watch: View the real-time time and attendance of officers. The visual layout provides a quick view for determining if officers showed and clocked-in as scheduled. This section also provides information about Lone Worker check-ins.
Batch Timeclock: It is the option where schedulers will be able to clock users in or out.
Vacant Shifts: Get a list of all vacant shifts and assign them to officers.
Unconfirmed Shifts: Access the list of scheduled shifts that an employee has not yet confirmed.
Proposal Queue: View shifts that have been offered to employees and whether they have accepted the shifts.
Shifts Notes: Consult and read all notes created during shifts in a single place.