Individual Report Notifications allow you to automatically send emails to designated recipients when specific conditions, or triggers, are met.
You can trigger notifications according to criteria such as incident category, incident severity, or report template.
To access individual report notifications, follow the steps below:
Access the appropriate Site profile, then select Notifications.
Click the New Notification Rule Button.

The Notification Rule Configurations pop-up will appear.
Rule Name: The description of the notification rule.
Notification Trigger: Select when the notification is sent. Choose from On Report Creation, On Report Editing, or On Report Approval.
Email Template: Choose either a default email template or add a custom email subject and body.
Apply To Sub-sites: Select whether the rule will apply only to this site or to this site and the subsites linked to it.
Once you have filled out the fields, click the Save button.
Click the Filters and Recipient button to choose the criteria that will trigger the notifications.

Incident Severity: Here, you can use the incident priority level as the criteria for specific notification rules.
Incident Flag Type: Use the incident parent category as criteria for a custom notification rule. Using the parent category allows you to create notifications for security-related and non-security-related issues, such as maintenance incidents.
Incident Flag: The incident category that will trigger the notification.
Form Templates: The notification will be triggered when the guard files a report with the selected form template(s).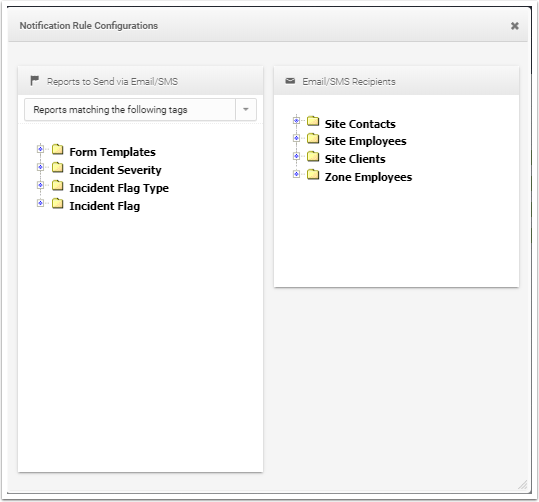 Choose the recipients of the notifications under Email/SMS Recipients.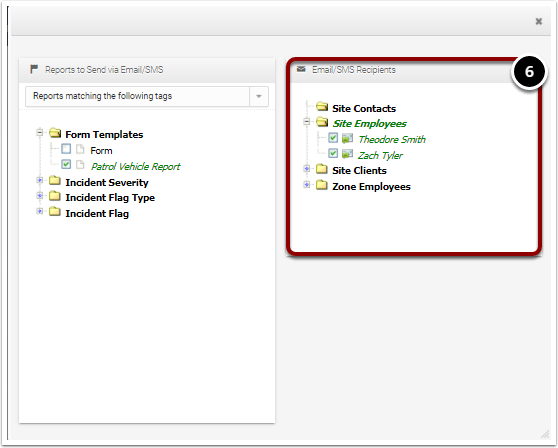 To save the new notification rule, click the X in the upper right-hand corner of the box.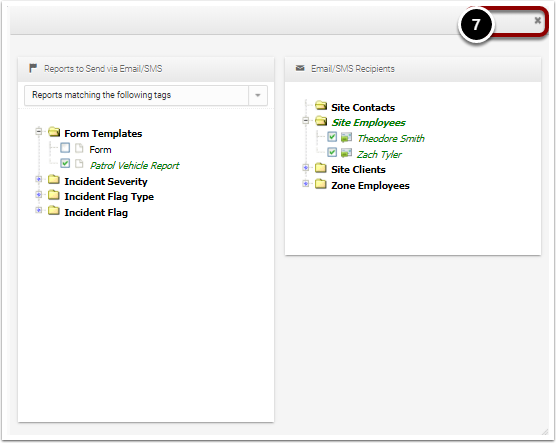 You will add the notification rule to the list.
At any time, you can click on the Edit button to edit the notification triggers and recipients.