You can distribute email schedules that you have published. This email will include the name and the address of the site/client, the position, and the schedule memo at the position level, if applicable.
TrackTik will alert you if the employee needs an email address in their profile. You can add an email for that employee after the first scheduled distribution. Add the email to the employee profile, then go back and distribute it to anyone with a new email address.
If the employee doesn't have an email address and will not have one, the distribute button will remain green, indicating the employee that did not get a schedule. You can then follow up with the employee to provide their schedule or ensure they will use another method to get it (mobile app, employee portal, IVR if set up).
You can distribute a schedule from the following areas:
From the main menu: Dashboard > Schedules & Attendance > Schedule Preparation section
From a Site: Sites (Clients) > Select Site > Schedules
Follow the steps below to distribute the schedules.
Click on the Distribute Schedule button.
Validate the date range to be published and review the number of schedules and officers who will receive it by clicking Next.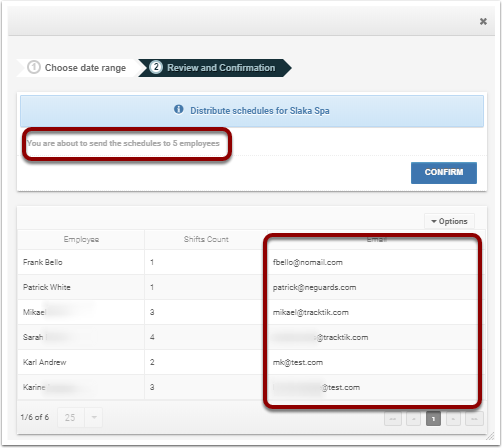 Guards will receive an email with the list of shifts that they have been scheduled for. An acknowledge button will appear if you said yes to requesting employee acknowledgment.