Learn how to pause and resume runsheets in Guard Tour Mobile App.
---
In this article
---

Overview
If you're an employee at the zone level, you can pause a runsheet to work on more urgent tasks. Your coworkers can pick up where you left off by resuming the same runsheet, so jobs get done.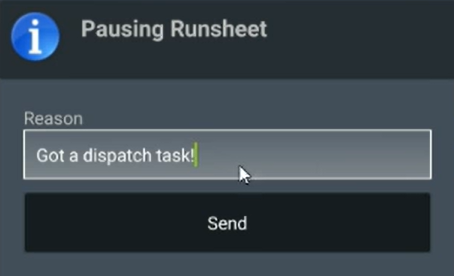 To learn more about runsheets, check out Mobile App: Runsheets.
---

Before you start
Here are some things you must do before you start:
You must have the required permissions turned on.


To learn more about which permissions to turn on, check out Before you start.
---

Pause a runsheet
To pause a runsheet:
In the Guard Tour Mobile App, select RUNSHEETS.
Select and start the runsheet.
Work on the runsheet. When you need to, select Pause.

In the Reason box, enter a reason for pausing the runsheet


This reason is shared with your management.

Select Send.


If you are in the middle of an active task, you can't pause the runsheet without finishing or postponing it.

To learn more about completing and postponing tasks, check out Mobile App: Performing Jobs.
The runsheet is now paused. When you pause a runsheet, it records your name, the date, and the time it was paused.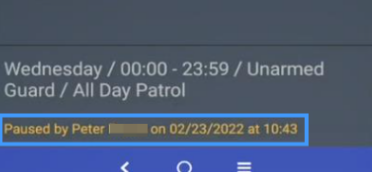 ---

Resume a runsheet
To resume a paused runsheet:
In the Guard Tour Mobile App, select RUNSHEETS.
Find and select a runsheet that says Paused by employee name on date at time.


If you need to continue a coworker's paused runsheet, you must be at the same zone level to see it.

In the Resume Runsheet? modal, select OK.
You can now continue working on the resumed runsheet.
Owning a resumed runsheet
The owner of a runsheet is the employee that resumes the runsheet. For example, If employee A pauses the runsheet and employee B resumes it, employee B is now the owner.
---
See also