Learn about Open Shift and how it can work for you, so you can run a smarter business.
---
In this article
---
Overview
Open Shift is a calendar view that can be accessed through the Staff Portal and allows your security officers to select available vacant shifts. Your admins can then review shift selections that your security officers make.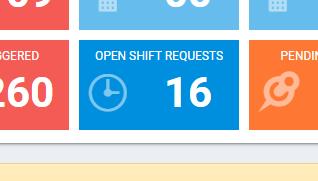 We made Open Shift user-friendly, so you can do business better.
We changed Shift Board to Open Shift

On September 2, 2021, Shift Board changed to Open Shift. To learn more, check out Shift Board is now Open Shift.
---
Key features
Open Shift is an optional feature that you can use, based on your scheduling needs. Here are some key features, if you decide to use Open Shift:
A practical UI
Get to your Open Shift requests quickly in the Admin Portal.
Keep track of Open Shift requests
See how many active Open Shift requests you have in one view.
Calculated scheduling
Offer an Open Shift, and before you approve it, see if you're going over a security guard's allowable scheduled hours.
Scheduling flexibility
Reschedule or cancel shifts when you need to.
Schedule notification changes for security officers
Make changes to an Open Shift and your security officer is notified about the change, so you can be sure your shifts are filled and the job gets done.
Site-based feature
Open Shift is a site-based feature. This means you must turn it on for each site, giving you flexibility because not all sites are managed the same way.
Shift offers
You can send shifts to Open Shift one by one or publish the schedule. If applicable, an option is available to move all Vacant Shifts or conflicted shifts to Open Shift.
Permissions
Open Shift is a permission set, so you don't have to give it to all employees. You can give permissions for posting to Open Shift or to view Open Shifts.
Personalized view
Security officers and supervisors can view Open Shifts from their web portal. Their viewpoint of Open Shift is unique to them and prepared by:

Employee's skill set
Resting hour (if applicable)
No conflict of schedules

Auto assignment
Open Shift shifts can be auto-assigned to the security officer that requests it, or registered as a request for the shift needing approval. This option is permission-based, so you can automate more of your processes.
---
Next steps