You can activate and deactivate features in the TrackTik portal and on the TrackTik mobile application.
Click on the Settings tile to access the list of features.
Some of the features you set at the portal level work in conjunction with the feature configuration at the site or zone level. For example: activate the on-site license feature at the portal level and then whether each site will use an on-site license. Activate the on-site license feature at the site level for each site using one.
Please take a look at this article for more information on activating features at each site.
Remember: If a feature with the message "This is a billable feature" is enabled, it is automatically invoiced.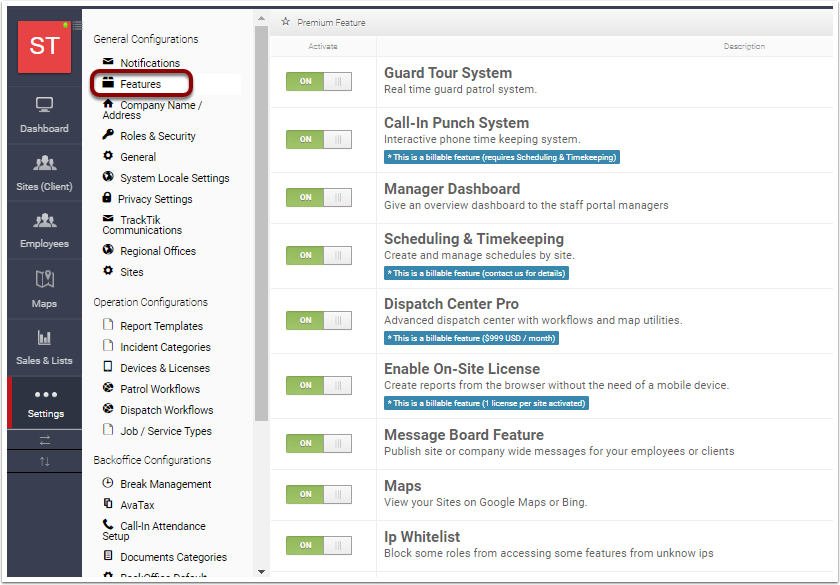 Guard Tour System: The foundation of TrackTik. The guard tour system allows you to set up and scan checkpoints, fill out reports, use analytics, and access many other powerful features.
Call in Punch System: Works in conjunction with TrackTik's Scheduling module. It allows you to set up an IVR number that guards can use to clock in and out.
Manager Dashboard: Grants access to a suite of features that supervisors can use to manage staff at one or many sites.
Scheduling and Timekeeping: An optional TrackTik module that allows you to schedule employees, track their shifts, reduce unplanned overtime, and better manage your workforce.
Dispatch Center Pro: This feature is part of the Mobile Suite. It allows you to create dispatches and manage them with workflows.
Enable Onsite License: The Onsite License allows you to access the TrackTik system through a browser on a laptop or desktop. This feature must be activated here and at the site level.
Message Board Feature: The Message Board feature allows administrators and guards to post, modify, read and acknowledge messages at the sites, zones and departments.
Maps: This feature gives you access to a map panel on the dashboard that shows the real-time positions of guards.
IP Whitelist: This feature allows you to define IP addresses from which users can access the system.
Cloud Storage: This allows users to upload documents in various formats to sites and employees. When turned on, the Documents tab appears so users can upload documents in multiple formats to sites and employees.
Runsheet System: This is part of the Mobile Suite.
Patrol Browser Access: The TrackTik Mobile Plus module allows guards to access run sheets and complete patrols from their browsers.
Dispatch Vendor: Set up a list of vendors to contract out your alarm responses.
Import Feature: Activate this feature to allow imports of sites and employees.
Premium Bill Pay: For use with the TrackTik Billing module. You can use this feature to bill your clients' premiums.
Customer Zone: Set up zones to group sites according to patrols.
Employee Skills and Certifications: Activities that employees can perform or things they possess.
Vehicle Management: Track your vehicle fleet and fill out vehicle inspection reports.
Post Orders: Create procedures at the site, zone, or department level. Attach files and optionally have guards acknowledge the post orders.
Post Order Acknowledgment: An option to require that post orders be acknowledged when read.
Panic Button: Activate the option to display the panic button on the mobile application.
Emergency Contacts: Turn regular contacts into emergency contacts. Create an escalation order of contacts in the event of an emergency.
Tasks and Simple Dispatch: This feature lets you quickly send tasks to guards and track completion.
Visitor Log: License and ID Scan: To be used with Visitor Management. This feature allows you to scan a driver's license with a mobile device.
Watch Mode: Activating this feature adds a watch mode icon to the guard's mobile device. Guards can then record video interventions while in the field.
Invoice and Payroll: This feature activates the TrackTik Invoicing and Payroll module. Generate payroll-ready data and invoice your customers for services rendered.
Accounts Receivable: Works with the TrackTik Invoice and Payroll module. Use this option to manage your accounts receivable.
Activity Journal: Add notes to clients and employees to track important interactions. Examples could include reminders about phone calls with site contacts, disciplinary actions with employees, general information about site layout, etc.
Shift Board: Works with the TrackTik scheduling module. You can publish unassigned shifts to a central location and allow your guards to select the shifts they want to work.
Audit History: View information on the changes made to employees and sites.
Panic Button Shake Detection: Activate this feature to sound the panic button when you shake the mobile device.
Zone Reports Relink Utility: Activate this option to allow portal users to link zone reports to sites.
Master Incident Categories: Activate this option to group your incident categories into buckets. Incident categories help streamline incident analytics.
Enable Visitor Log (Beta): Works with the TrackTik Visitor Management module. Allows you to keep track of visitors entering and leaving a site.
Payroll Ad Hoc Items: Works with the TrackTik Payroll module. Allows you to add payroll items on the fly.
Payroll Ad Hoc Deductions: Works with the TrackTik Payroll module. Allows you to create payroll deductions on the fly.